Mark Newton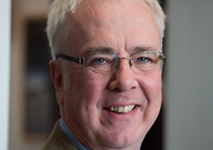 Mark's life has changed a bit since we moved to Orkney, as he has got involved in things like the John Rae Society of which he is now a Trustee and is responsible for their website. And Anna even persuaded him to go to the local (very very popular and well=known) folk festival which he found himself enjoying rather to his own surprise. And becuase a lot of friends and family wanted to hear of our adventures he started writing a blog called Orkney Living which has become very popular with everyone !
Mark has been involved in IT since 1983. He started his career as an electronic engineer, but found that he had a particular interest in computing, building his first PC in 1974.
The interest in computing developed and he moved to Switzerland to work for Cern at around the same time as Tim Berners Lee was putting the first ideas together for what would later become the World Wide Web. On returning to the UK Mark started his own company selling hardware and writing application software for individual clients.
Mark became involved with Internet Technology, in the early 90'ss, long before the current explosion of interest in the Web was generally envisaged. He has never lost the interest and enthusiasm for the technology involved.
During the early part of his career he developed considerable expertise in database work with particular emphasis on the use of databases in conjunction with Direct Marketing. He has continued to build on his early experience and is considered by many to be an expert in database structure and management.
Mark was a contributing editor to PCPro magazine for many years and still writes for them on an occasional basis, but it is because of his partnership with Anna that he got heavily involved in the bridge side of things! You can read his (occasional) PCPro Blog by clicking here.
Mark doesn't play bridge - and flatly refuses to learn, fearing that he might find it addictive.
Mark was also IT manager for 10 years for the WBF from 1994 where he oversaw many technalogical improovements to the game. He resigned from this to give more time to his web building business. Although he is still heavily involved with the WBF in a consulataive manner.
Mark developed all the technology, including the scoring, behind the Simultaneous Pairs and the ECatsBridge Club. He has taken over the work of the WBF Master Points, following the sad death of Pietro Bernasconi.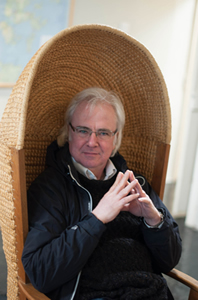 Like Anna, he enjoys wining and dining, likes film and theatre and reads car magazines and techical books ad nauseam - between us we probably keep Amazon in business. And he rather fancies getting hold of an Orkney Chair, but they are VERY expensive! So a lot of saving up is needed!
Mark's main hobbies though are archaeology - the Neolithic variety - photography (click here to see Mark's pictures), and an interest in geology.
This photograph was taken inside the Neolithic House at Knap of Howar on Papa Westray - it had started to rain and where better to shelter than in ancient man's abode ?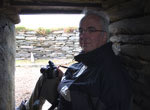 ---